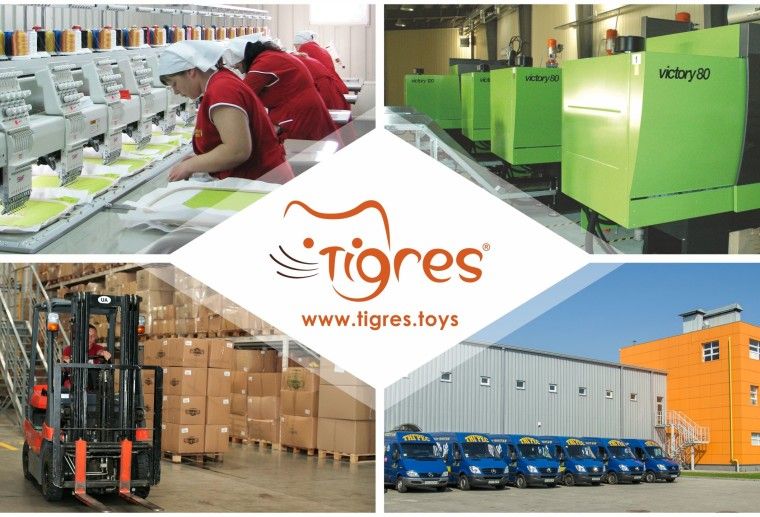 Tigres - let's grow together!
Tigres Company is a manufacturer of toys, bedding and clothing for children.
Our mission is manufacturing of quality and safe products for the child's development and getting acquaintance with the surrounding world by present and future generations.
Our values are: family, motherhood, happy childhood.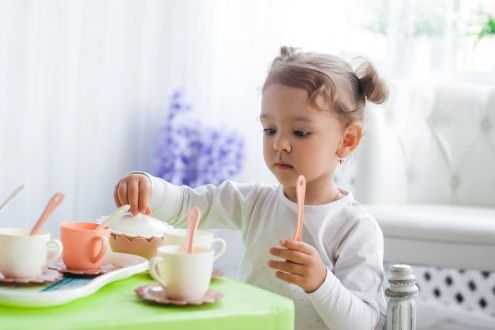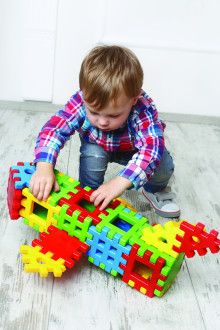 Plastic toys production
Mass production of Tigres plastic toys began in 2011 and today it is one of the largest and most successful in Ukraine.
Thanks to:
skilled staff: best engineers and designers.
modern production facilities:
22 ENGEL in-molding machines
5 blowing machines
IML Robot
Reliable certified suppliers of forms and printed products.
Quality control at every stage of production.
Constant updating of actual product range.
Annual production capacity of plastic toys is more than 6 million finished products.
Sewing production
Mass production of Tigres soft toys began in 2003.
Our products meet the highest Ukrainian and European quality standards.
Tigres sewing production:
creates products from idea to finished product
owns professional design studio
has modern high-tech equipment:
58 sewing machines
5 embroidery machines
7 cutting knives
2 toy filling machines
1 combing machine
corporate toys production
individual approach to each client
Actual assortment is more than 100 items. Production capacity: 10 000 pcs per month.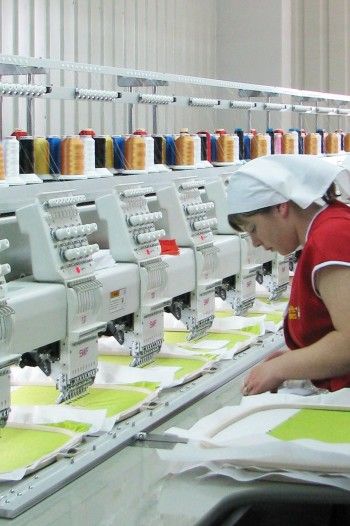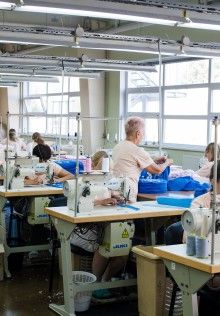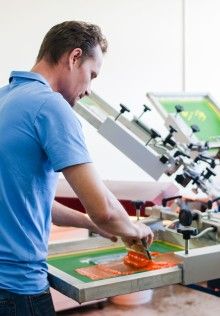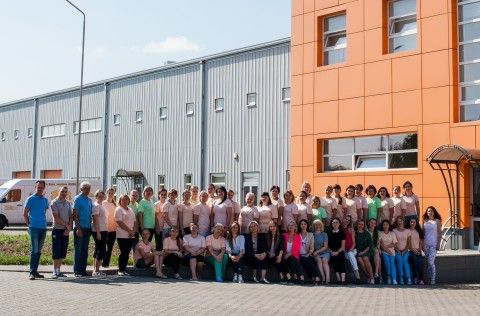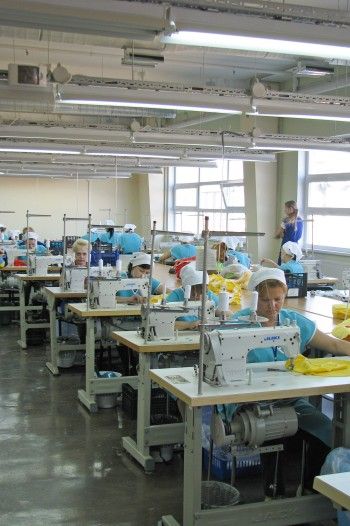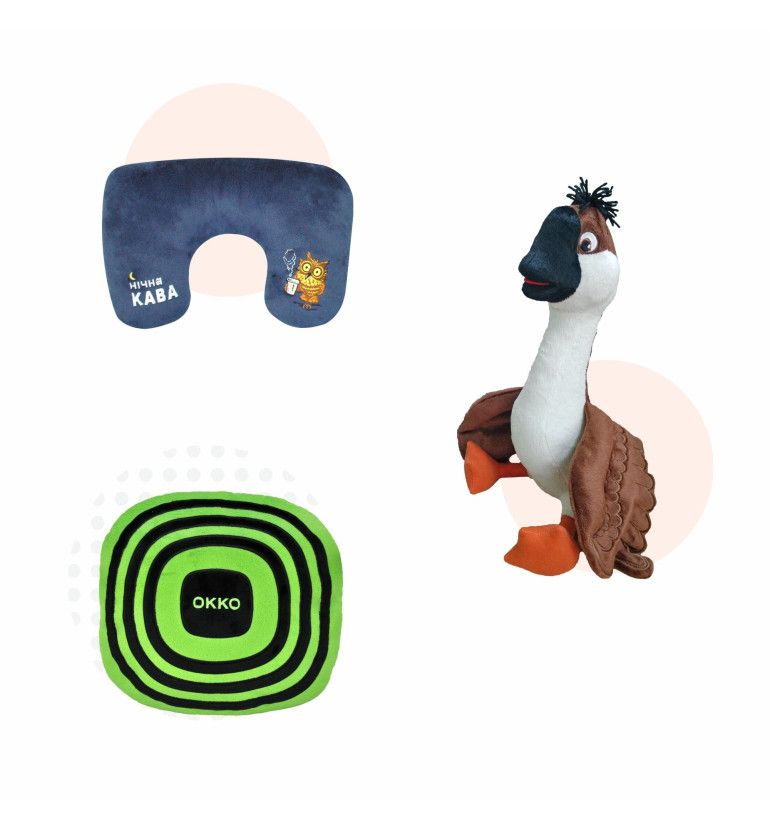 Order corporate toys in our company!
Looking for a special corporate souvenir for business partners or customers? A soft toy with logo or slogan of your company is the best choice!
Unique design solutions and creation of exclusive products in accordance with the style and mission of your company - a corporate toy will create a positive image and brand awareness.
We care of your impeccable reputation, so for the production of corporate toys we use only high-quality materials and modern equipment.
Corporate souvenirs will highlight the high status of your company in the eyes of business partners and customers.
Contact us and we will create a corporate toy for you!
Korolchuk Anna: +38 0332 77 36 22, +38 067 334 61 97
Minimum order quantity - 100 pcs.
The size of a soft toy - not less than 20 cm.
We can make corporate plastic toys as well.
We can make plastic toys in your corporate colors. And in order to make your corporate souvenir even more original, we will create stickers with the logo or slogan of your company, which can be placed on toys.
We offer production of corporate toys from ideas to finished products, so be sure your corporate souvenir will be unique!
Excursion tours to the production factories
We invite you to a free tour over soft and plastic toys production factories of the Tigres company.
The season of excursions lasts: from January 21 to June 21, and from August 21 to December 21. On tour You will:
see the whole process of how plastic and plush toys are born.
evaluate European production technologies and make sure that Ukrainian toys are the best!
find out the story about success of Tigres company, a leader in the Ukrainian toy industry.
To make the excursion interesting and safe, you need:
Observe rules of safety during all tour.
Do not take food with you on your excursion tour and items that may contaminate or damage the goods.
Arrival of the excursion group to our production factory is carried out at the expense of tourists.
At the end of the tour you'll get an opportunity to purchase the goods at the manufacturer's price.
Quantity: up to 30 participants and 5-6 adults accompanying.
Start: 10:00 and 14:00, duration: 1 hour 30 min
Before visiting our production factories, prepare and bring with you a list of visitors with phone numbers of adults, who accompany the group.
Order excursion tour: 9:00 to 10:00 and from 16:00 to 18:00
+38 (0332) 77 36 04, +38 (067) 332 47 80, Iryna Sushchuk
e-mail: i.sushchuk@tigres.ua
45601, Ukraine, Volyn region, Lypyny, Peremohy str., 25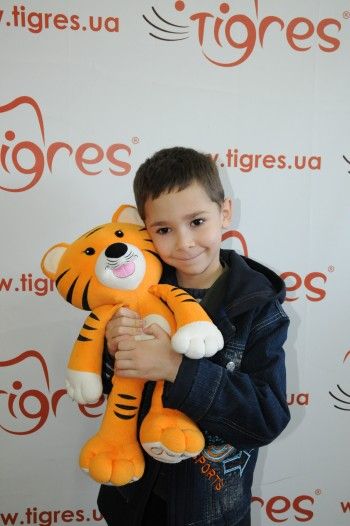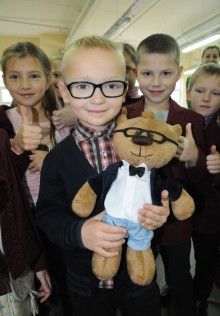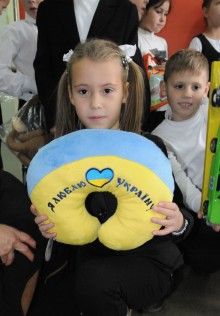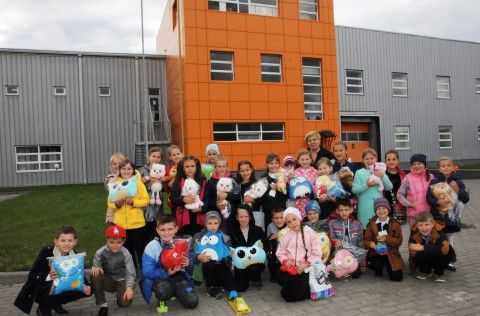 Our high quality and safe products are certified
We are convinced that the world of toys must be safe for the child, so we take responsibility for the quality of our products. All the details of the toys are absolutely safe and strong - there are no sharp, cutting edges to ensure maximum safety for a child . The products are certified, passed a strict quality control, in accordance with Ukrainian and European standards and are marked with appropriate signs.
Confirmation of the high quality of Tigres plastic toys is export of products to the countries of Europe, Asia and other countries of the world.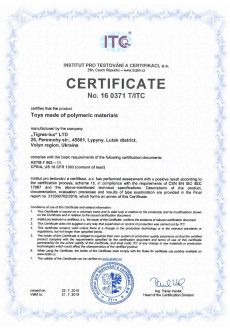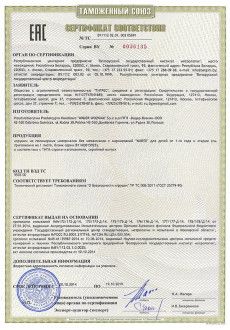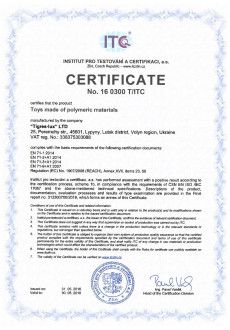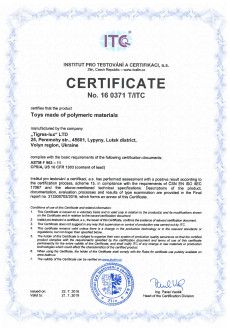 Our partners