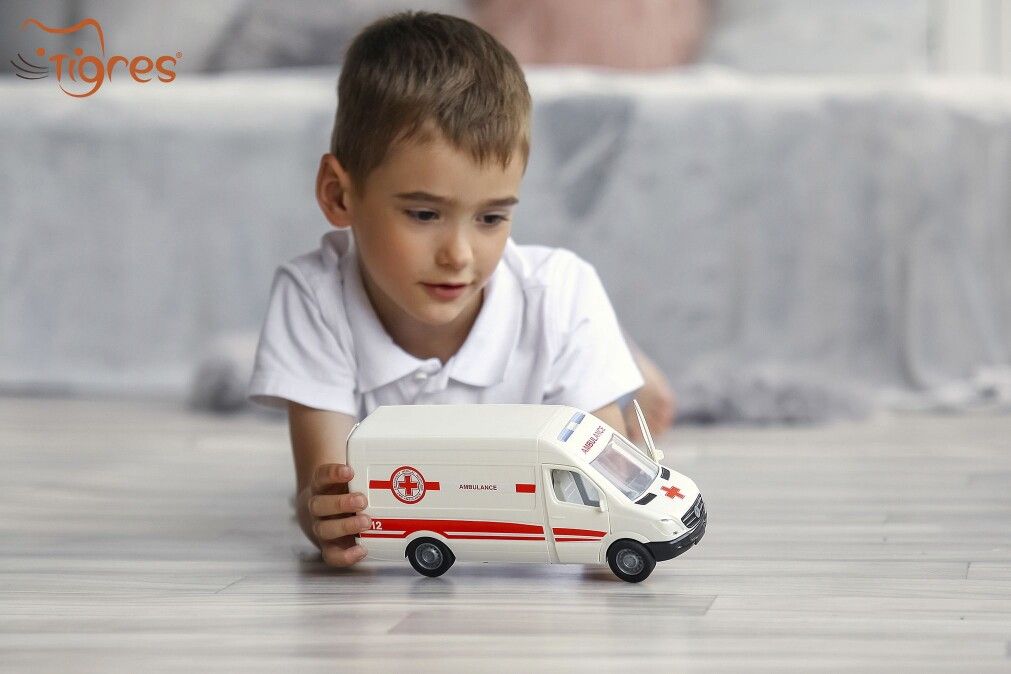 Mercedes-Benz Sprinter by TM Tigres - a global brand in the children's auto park
20.05.2020
Today the market is filled with a variety of different toy cars. Miniature car models and special technics, cars and trucks – it's not easy to surprise young motorists. But it's difficult to buy really licensed toy that meets European quality standards.
Ukrainian company Tigres has released a unique for the market licensed series of cars Mercedes-Benz Sprinter: a model of the world-famous brand in the scale of 1:24.
Mercedes - is the name of a nine-year-old girl
Mercedes cars are known all around the world due to their reliability. For more than a hundred years, they have not lost their popularity and stay the leaders in the ranking of the best car models. Mercedes is the name of the daughter of Austrian businessman Emil Jellinek, co-owner of a car company. Translated from Spanish, Mercedes means "mercy, grace", from Latin - "gift". In 1901, in Paris, Emil Jellinek presented a 35 hp Mercedes car in Paris, beside a huge portrait of his daughter. Thus began the era of Mercedes cars, which continues today.
Mercedes-Benz Sprinter by TM Tigres – for every child
There are passengers, cargo and specialized Mercedes-Benz Sprinter – 45 unique models, that is confirmed by the hologram on the package.
Toy cars are produced of the safe high-quality raw materials ABS according to Ukrainian and European quality standards. Passenger's and cargo Mercedes-Benz Sprinter have many moving elements: the front and rear doors can be opened, the steering wheel can be lowered and raised. The soft wheels of the car are made of safe raw material TPE (has mechanical characteristics similar to rubber) and provides easy maneuvering without slipping. Children can carry toy figures of favorite characters and animals and transport cargo in Mercedes-Benz Sprinter.
If children are fond of special cars, the collection includes a police car and an ambulance car. These black and white models with special stickers are a miniature copy of real cars.
Kids can also feel like fast delivery truck drivers, or an ice cream carrier or a zoo owner on wheels!
It's great to have tow truck Mercedes-Benz Sprinter with a gun carriage in own auto park - to transport broken cars. Together with friends, the child will be able to simulate different situations on the road, as well as learn the rules of the road. The set includes an additional machine "Kid cars" formula.
Truck "Mercedes-Benz Sprinter" with or without a trailer is the best for carrying cargos. In these models car boards can be opened, so it is easy to load children's furniture, sand, stones or twigs at the street. Your baby will be able to help you plant pots and work in the flower garden. Even transporting wet sand, because all Mercedes-Benz Sprinter by TM Tigres cars are resistant to weather conditions. Bright toys do not lose their colors under the influence of sun and rain.
Not only boys like playing with cars. Pink truck "Mercedes-Benz Sprinter" - is a real find for little drivers. The girls will be happy to transport toy fruits and vegetables, as well as doll furniture LOL. The beautiful combination of pink and gray will appeal to little beauties, as well as all collectors of licensed toys.
Mercedes-Benz Sprinter by TM Tigres – choose best!