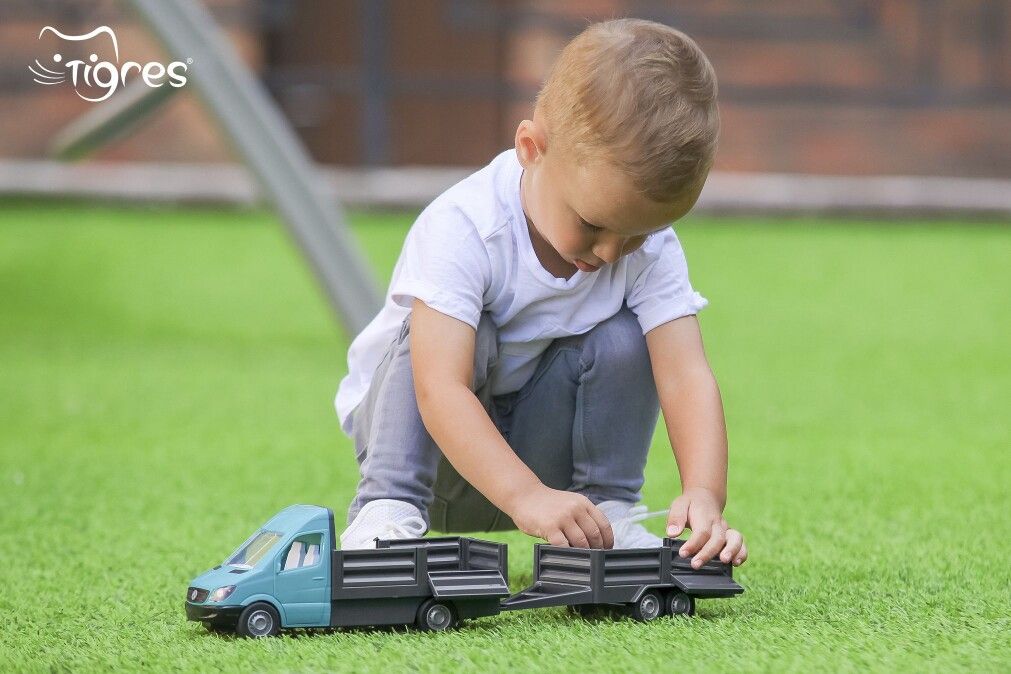 Mercedes-Benz Sprinter by TM Tigres - choose best!
18.09.2020
The world of toys is diverse and bright. A new toy is always a joy for a child, but smart parents know that it should not only bring joy and delight, but it has to be safe and useful, to develop, teach and help the baby to discover the world.
Boys and girls play with toy cars. But how to choose the toy, which should be liked by the child and have educational value?
• The toy must be safety and according to the child's age.
• The useful toy – helps better to understand the world around
• Stimulate the child to action.
• Develop fine motor skills, attention, and logic.
For each age a car.
The simple, bright cars without additional functions and small details are suitable for children who can sit and crawl confidently. The kid will drive the car on the floor, turn the wheels with his fingers, and from an early age, will develop fine motor skills. The toy will stimulate motor and cognitive activity.
For children 3+ choose cars with moving elements.
The functional toys from the licensed series "Mercedes-Benz Sprinter" - a great choice for a child at this age! The collection was completed with new models.
Tow truck Mercedes-Benz Sprinter with a gun carriage - is a special vehicle that can be seen on the roads of our cities. The young car enthusiast will get acquainted with the work of specialized equipment and will be able to simulate different situations on the road. The car with the tow truck is two toys in one. The set includes an additional machine "Kid cars" formula.
Truck "Mercedes-Benz Sprinter" with or without a trailer is the best for carrying cargos. In these models, car boards can be opened, so it is easy to load on its children's furniture, sand, stones, or twigs on the street. The child can play outside even after the rain because all Mercedes-Benz Sprinter
cars by TM Tigres are resistant to weather conditions. Bright toys do not lose their colors under the influence of the sun and rain.
Truck Mercedes-Benz Sprinter with a trailer – is a multifunctional toy for carrying cargos and transport small cars.
Each toy is a model of the world-famous brand Mercedes-Benz, which is confirmed by the hologram with a unique number on the package. Models difference by its original design, high-detailed, and functionality. The front and rear doors can be opened, the steering wheel can be lowered and raised. The toys stimulate the development of fine motor skills, spatial imagination, logic, and imagination. Toy cars are produced of safe high-quality raw materials ABS according to Ukrainian and European quality standards. The soft wheels of the car are made of safe raw material TPE (has mechanical characteristics similar to rubber) and provide easy maneuvering without slipping.
Buy original licensed toys – choose the best!