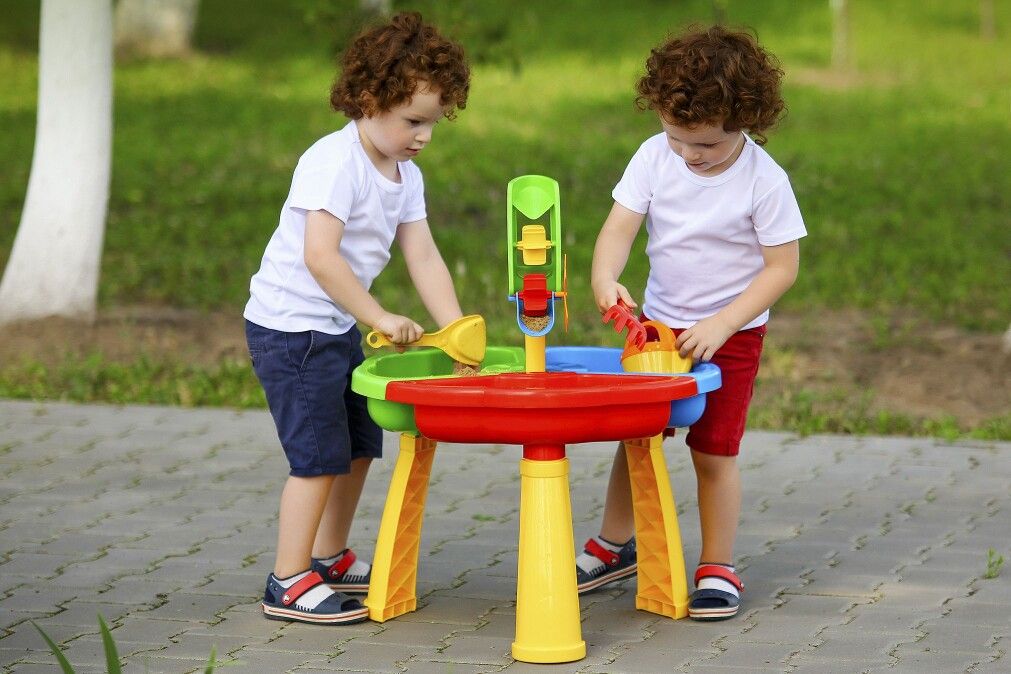 Multifunctional table for sand and water – a comfortable sandbox at every home
27.04.2020
Child's development is going on during playing. When the newborn period is over, the baby's attention is attracted to mobiles and rattles, and later to pyramids and sorters, cars and dolls. But, most of all, children like to play with sand and water. Kids can sculpt sand figures and sand castles for hours, or even just loose sand or pour water. Small grains of sand train motor and manual skills, water – calms.
If you don't have a sandbox - multifunctional table for sand and water by TM Tigres is a great solution. There are 3 large colorful sectors on the table, so it's comfortable to play with friends. The play area is fixed to three wide legs, which guarantee the reliability of the toy: the table will not spill over, when the child will lean on it. Blue, green and red sectors of the table have comfortable shape and depth. The set with the table includes mill for sand and water, shovel, rake, shape and watering can. The mill starts moving by pouring sand on top of it or pouring water from a watering can. Kids will be very excited by it!
In summer, it is best to locate a table in the shade, or use a sun-protective umbrella to make children's playing comfortable. It is easy to carry and install (instructions included with the toy). Buying the multifunctional table for sand and water, you can be sure in a high quality of a Ukrainian toys. All of the toys TM Tigres are produced of the safe materials and according to Ukrainian and European standards.
Multifunctional table – is the year-round sandbox!
In warm sunny weather, children will play with a table outside. And when it's cold or it's raining, the kids will play with it in the house. Bright design will complement the nursery. The toy does not take up much space, but will diversify the leisure of children. For playing inside kinetic sand or any cereals can be used.
Play the game "Who will find the first". Pour different cereals into the sectors of the table and hide there small toys or constructor's details. Let the children on account of "three", start looking for the hidden item. Repeat the game three times. At the result, the winner gets sweet prize! It's interesting to play all family together. This game perfectly trains motor and manual skills, affects as an antis-tress for both children and adults.
You can buy the Multifunctional table for sand and water in our on-line shop.
Play and develop together with us!